CIRFE
Organization
Center for Integrated Research
of Future Electronics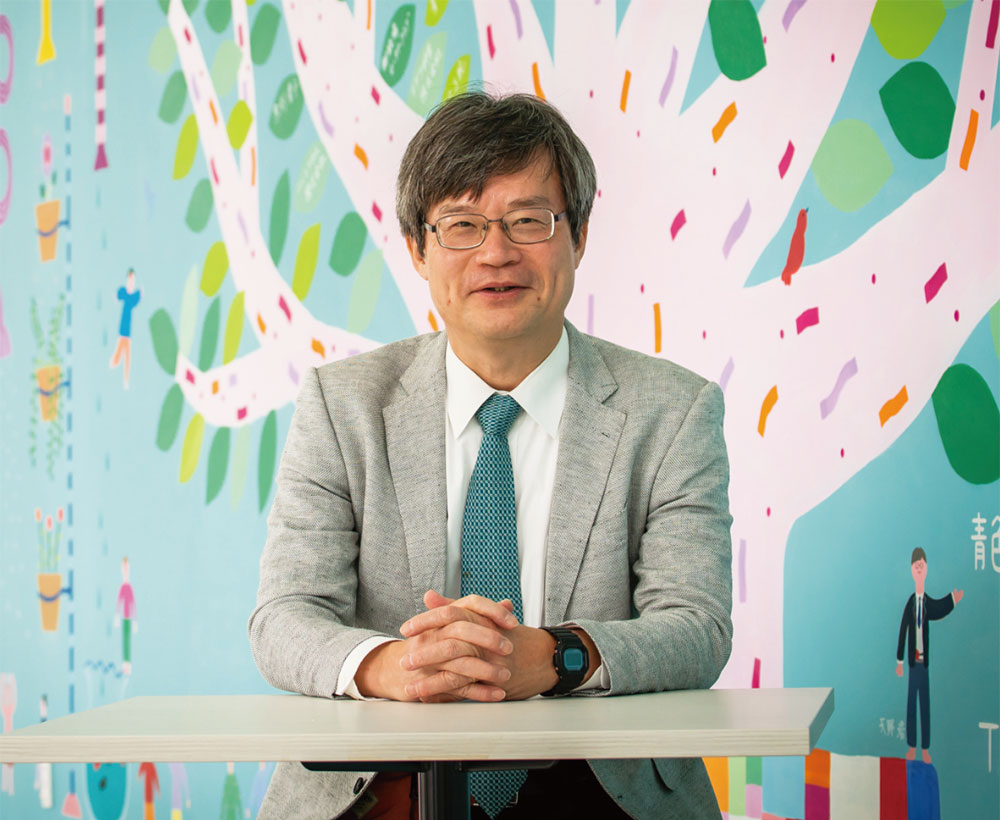 Center for Integrated Research of Future Electronics
Director of the Center
AMANO, Hiroshi
The Center for Integrated Research of Future Electronics (CIRFE), established in October 2015, engages in lead­ing-edge electronics research-including research in the un­traversed area of devices with gallium nitride, carbon nano­-tube, SiC and other post-silicon materials-while also cultivating top-notch human resources to lay the foundations of the future electronics industry. CIRFE is divided into six sections, each staffed with instructors who serve as leading spe­cialists in their field, and equipped with outstanding research infrastructure. The Center's fully integrated joint research and education system covers everything from basic scientific education on materials, measuring, devices, and applied systems through to the completion of student educational courses. Through research on energy-saving devices, an area in which very little experimentation has been carried out anywhere in the world, CIRFE strives to foster well-trained human resources who will lead the field of manufacturing in the twenty-first century.
Device Innovation Section
The Device Innovation Section aims to develop devices with new functions by establishing new crystal-growth methods and process development for cutting-edge electronics materials with a central focus on wide-bandgap semiconductors, such as gallium nitride and silicon carbide, and nanocarbon materials. A fully integrated research approach enables us to establish a unified process from crystal growth to device design, manufacturing, and assessment.
Crystal Growth
To realize gallium nitride semiconductor devices that will serve as the foundation of next-generation electronics, we carry out a wide variety of research from the growth of bulk crystals for use as substrates free of killer defects to the growth and processing of next-generation quantum structures and nanostructures.
Show Member
Member
Project

Generation of noble nitride-based devices and their contribution to the development of new infrastructure

Project

Study on nitride semiconductor crystal and devices

Project

Creation of sophisticated devices based on Nitride semiconductor

Project

Creation of Next-Generation GaN Power Devices

Project

Development of fabricating process of nitride crystals using supercritical ammonia

Project

Study on innovative nitride semiconductor crystal growth technique and future devices

Project

Development of Micro-LEDs using Nitride semiconductor

Project

Development of crystal growth method for high-performance nitride semiconductor power devices

Designated Assistant Professor《Institute for Advanced Research》

WANG, Jia

Project

Spatially selective p-type doping of GaN and related novel electronic and optoelectronic devices

Researcher

FUJIMOTO, Naoki

Project

Research of growth technology of high quality GaN bulk crystal

Researcher

FURUSAWA, Yuta

Project

Study on crystal growth and device function of wide bandgap semiconductor (BAlGaInN)

Researcher

WATANABE, Hirotaka

Project

High quality nitride semiconductor crystal growth for future devices

Visiting Professor

ISHIGURO, Tohru

Visiting Professor

OTA, Koichi

Visiting Professor

OTOKI, Yohei

Visiting Professor

KOIDE, Yasuo

Visiting Professor

MATSUMOTO, Koh

Visiting Professor

MUTO, Hirotaka

Visiting Associate Professor

NISHITANI, Tomohiro

Visiting Associate Professor

WAKEJIMA, Akio

Visiting Faculty

IIDA, Daisuke

Visiting Faculty

KORAI, Takao
Surface/Interface
The effective use of electric energy can markedly reduce worldwide power consumption and improve the performance of electrical equipment including electric vehicles. This is realized using power semiconductors. Various electrical products generate heat. For example, much electricity is used to remove the heat generated by computer servers used to support our networked society. Ceramic materials play a key role in suppressing such heat. The use of ceramic materials markedly reduces the amount of CO2 generated. In our laboratory, we are developing new crystal growth technologies using artificial intelligence, and we are realizing new crystal materials such as power semiconductors, ceramics, and nanoparticles using the developed technologies. We aim to build a sustainable society that meets the Sustainable Development Goals (SDGs).
Show Member
Member
Project

Study on a novel processes based on crystal growth theory for high-quality crystal of functional materials (SiC, AlN, etc.)

Project

Control of defects in crystalline materials

Project

Multi-scale modeling and optimization for the solution growth of the SiC crystal

Researcher

MATSUBARA, Yasutaka

Project

Simulations of dislocation contrasts in birefringence image considering photoelastic effect in SiC wafers

Visiting Professor

UDA, Satoshi

Visiting Professor

KAMEI, Kazuhito

Visiting Professor

KUSUNOKI, Kazuhiko

Visiting Professor

KOJIMA, Kazutoshi

Visiting Professor

TSUKAMOTO, Katsuo

Visiting Professor

FURUSHO, Tomoaki

Visiting Professor

YONEZAWA, Yoshiyuki

Visiting Associate Professor

KUTSUKAKE, Kentaro

Visiting Faculty

UEMATSU, Keiko
Nanomaterial devices
Aiming at the creation of future electronics with affinity for human beings,we are striving to realize electronic devices that are transparent and flexible,taking advantage of the characteristics of nanomaterials such as carbon nanotubes. We will realize wearable healthcare devices that can be placed in direct contact with soft tissue of the human body.
Show Member
Member
Project

Development of energy-saving advanced electron devices based on nano-carbon materials

Project

Energy harvester based on nano carbon materials

Visiting Professor

OSHIMA, Hisayoshi

Researcher

AJI Adha sukma
Energy Conversion Device
Show Member
Member
Project

Advanced photovoltaic cells with earth-abundant materials
Nanoelectronic Device
Show Member
Member
Project

Research and development of thin film and interface engineering technologies of group-IV semiconductors for low-power consumption nanoelectronic devices
Semiconductor Engineering and Integration Science
Show Member
Member
Project

Study on Materials Processing and Characterization for Advanced Electron Devices
Multiphysics Simulation Section
The Multiphysics Simulation Section is engaged in research with the aim of realizing multiphysical-system-based predictable crystal-growth simulations that integrate first-principles calculation with macroscopic fluid dynamics via thermodynamic analysis. Additionally,this section is pursuing proposals for new gallium-nitride-based power devices.
Frontier Computational Material Science
Crystal growth process clarified by the multi-physics simulation.
Show Member
Member
Project

Computational Studies on Semiconductor Crystal Growth

Project

Development of mathematical and data scientific methodology for fluid mechanics and its applications

Project

First-Principles Study on Electronic Property of Surface and Interface

Researcher

ZHAO, Yuansheng

Visiting Professor

OHNO, Takahisa

Visiting Faculty

SEINO, Kaori
Materials Science based on Computics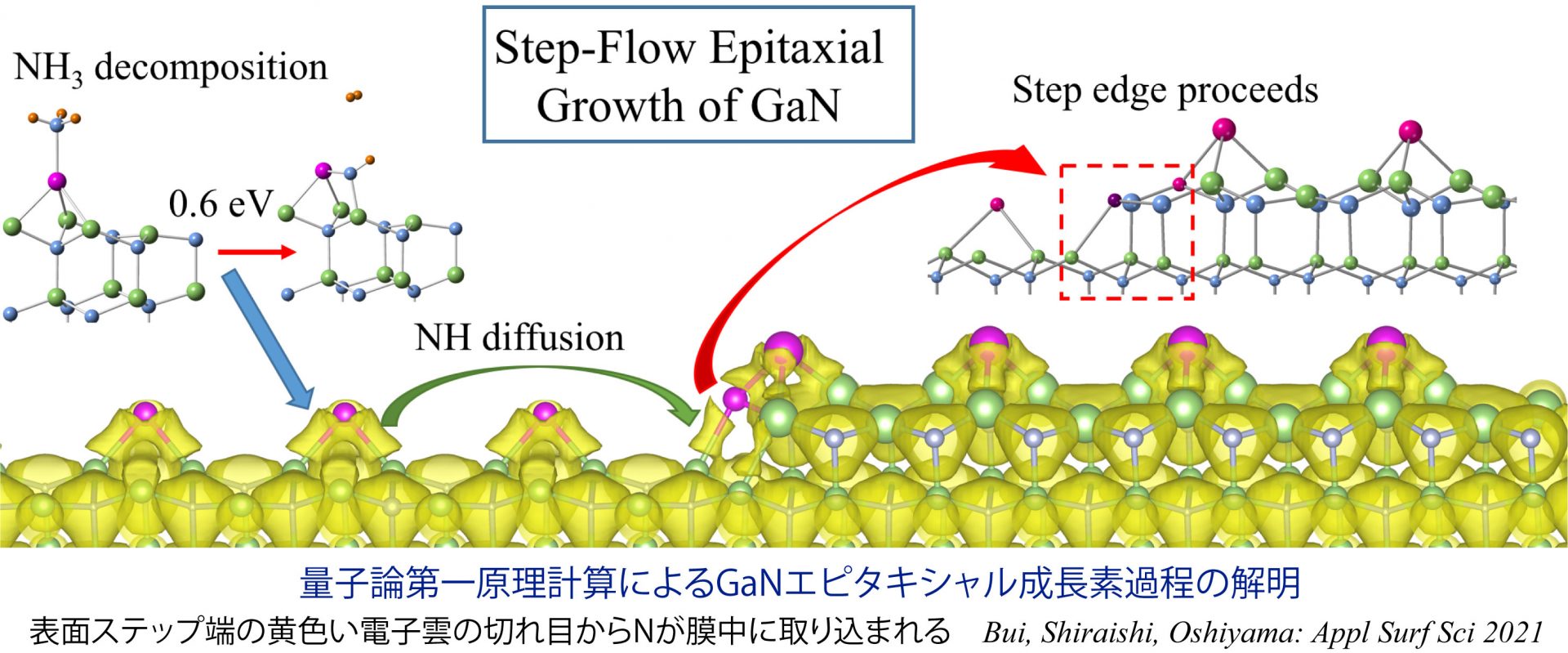 物質科学の進展は、工学の隆盛を支え、人類の生活と歓びに寄与します。近年のスパコンの発達を物質科学の進展に活かすには、物理学と高性能計算手法との融合が大事です。それをコンピューティクスと呼びます。我々はこのコンピューティクス・アプローチにより、パワー半導体とナノ材料・構造体の科学の進展を目指しています。
Show Member
Member
Designated Professor

OSHIYAMA, Atsushi

Project

First-principle study on thin-film growth and surface/interface properties

Visiting Faculty

BUI, Thi Kieu My
Materials Nano-Characterization Section
The Materials Nano-Characterization Section develops nanoscale operand analysis techniques for semiconductor devices under operating conditions using electron microscopy and electron holography.
These efforts are part of research centered on themes such as interface electronic properties involving direct measurement of device operations and electric-field response measurements for semiconductor interface electronic structures.


Nano-Electronic Materials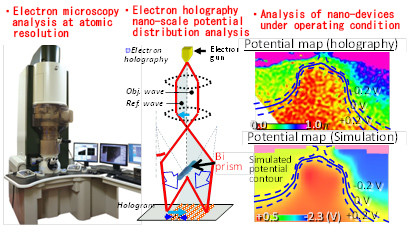 Direct electrostatic potential mapping in nano-scaled FET
under operation mode using electron holography
Show Member
Member
Vice-director of CIRFE, Professor

IKARASHI, Nobuyuki

Project

Nano-science and advanced electron microscopy for device innovation

Associate Professor

NAGAO, Masahiro

Project

Analysis of Magnetic Properties by Advanced Electron Microscopy toward the Development of New Devices

Assistant Professor

KANO, Emi

Project

Advanced electron microscopy analysis of GaN and other nitride semiconductors

Professor Emeritus

TANAKA, Nobuo
System Applications Section
In the area of devices utilizing cutting-edge electronics materials, this Section focuses on the integration of such devices into various systems and pursues applied research with an eye toward real-life applications throughout society.
Power Electronics
For the purpose of realizing high-efficiency, small, and lightweight power converters and motors used in hybrid vehicles, electric vehicles, power infrastructures, and next-generation airclafts, we carry out applied research on power electronics technology by integrating fields related to power semiconductors, controlling technology, and magnetic applications.
Sightseeing electric vehicle developed in our laboratory (equipped with in-wheel motors, can be fully charged by capacitor charging in 4 min compared with 5 h using conventional batteries)
Practical automobile power converter with highest power density in the world (3 W/cc or more) realized using GaN power semiconductor
Show Member
Member
Project

GaN and SiC power semiconductor module techniques and its industry applications

Project

Research of advanced system simulation for Power Electronics and it's applications

Project

Development of Next-Generation Power Electronics Technology Based on Advanced Magnetic Application and Modeling Techniques and Its Industry Applications

Associate Professor

KURIMOTO, Muneaki

Project

Study on electrical insulation for high-reliable and low-loss power semiconductor module

Project

Research of high efficiency electric power conversion circuit using GaN Semiconductor Devices

Project

Analysis and optimization of the behavior of GaN devices used in power electronic circuits

Researcher

KAMIYA, Arihiro

Project

Research of electronics packaging technologies for GaN and SiC power semiconductor module and its industry applications

Researcher

SENANAYAKE, Thilak Ananda

Project

High Frequency Wireless Power Conversion Circuit using GaN Semiconductor Devices

Visiting Professor

SATO, Shinji

Visiting Professor

HOSOTANI, Tatsuya

Visiting Associate Professor

ISHIKURA, Yuki

Visiting Associate Professor

KURODA, Naotaka

Visiting Associate Professor

SHIN, Jong-won

Visiting Associate Professor

MASUDA, Mitsuru

Visiting Associate Professor

MUKAIYAMA, Daisaku

Visiting Associate Professor

MOSTAFA, Noah
RF Circuits
RF circuits group conducts researches of new circuit technology and the basic performance improvement of the elementary devices, aiming for micro- and millimeter-wave applications such as wireless energy transfer, next generation wireless communication systems, etc. By taking full advantages of gallium nitride (GaN) devices, we aim to dramatically reduce the energy consumptions and contribute to the realization of the society coping both convenience and sustainability.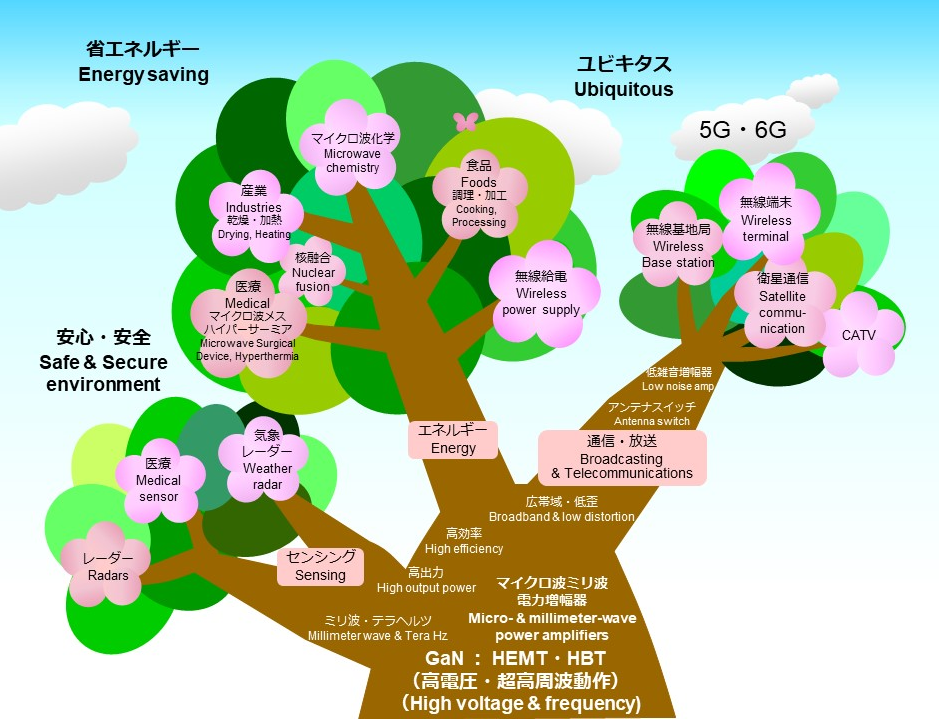 Show Member
Member
Designated Professor

HARA, Shinji

Project

Circuit design technologies using GaN for microwave & millimeter-wave applications

Researcher

SAKUNO, Keiichi

Project

Circuit design technologies using GaN for microwave & millimeter-wave applications

Researcher

SUEMATSU, Eiji

Project

GaN circuit design technology in millimeter-wave & terahertz band

Researcher

TANBA, Noriyuki

Project

Circuit design technologies using GaN for microwave & millimeter-wave applications
International Research Section
  The International Research Section engages in research and development activities together with visiting professors invited from overseas. Additionally, the Section is cultivating an international research network as part of efforts to form a central venue for nitride semiconductor research.


New Approaches on III-Nitrides
  Future devices needs further III-Nitride semiconductor development, to go beyond the limits set by the current materials. New approaches like N-polar surface and new material like AlPN are explored which to achieve a device performance not possible using conventional approaches.
Reciprocal space map using high-resolution X-ray diffraction to estimate the basal plane stacking fault density on (10-13) GaN crystals for green LEDs

Orientation of single phase (10-13) AlN on sapphire produced by directional sputtering and high-temperature annealing.
Atomic force microscope images of (10-10) AlN films prepared by metal-organic vapour phase epitaxy with three different nucleation times and annealed at different temperatures. Numbers indicate roughness in nanometer.
Show Member
Member
Project

Better device materials from a better understanding of crystal growth

Designated Assistant Professor

YANG, Xu

Project

New AlPN/GaN semiconductor heterojunctions for better GaN based electronics
New Device Development
Show Member
Member
Visiting Professor

GRAHAM Samuel

Visiting Professor

SCHOWALTER, Leo John

Project

Research and development of application and innovative devices of single crystal aluminum nitride

Visiting Professor

XING, Huili Grace

Visiting Professor

SEONG, Tae-Yeon

Visiting Professor

BOĆKOWSKI, Michał Stanisław

Visiting Faculty

CHOWDHURY, Nadim
Research Strategy and Joint Research Promotion Department
This organization was established to build a network as a co-creation platform for studying wide bandgap and ultra-wide bandgap semiconductor materials. And it is in charge of planning and managing projects to promote human resources exchange and joint research through the research network. This section is also provided a function secretariat of GaN research strategy office of Nagoya University.
Show Member
Member
Designated Professor

ARAI, Manabu

Designated Professor

UESUGI, Tsutomu

Designated Professor

KACHI, Tetsu

Designated Professor

HASHIZUME, Tamotsu

Designated Professor

FUJITA, Shizuo

Visiting Professor

CHOWDHURY, Srabanti

University Research Administrator

MIZUNO, Koichi

University Research Administrator

FUJIMOTO, Hiromasa

University Research Administrator

WATANABE, Toyoyuki