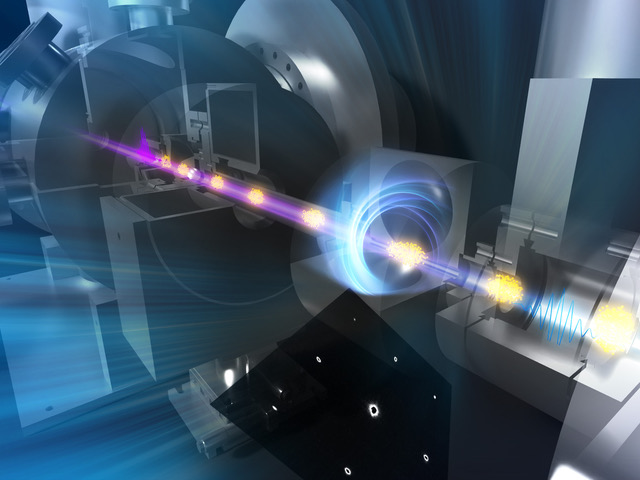 ・ Using a new generation technology of pulsed electron beam, we have developed the world's first table-top size apparatus for observing ultrafast structural changes within less than 10 trillionths of one second (100 fs) due to photoexcitation process.
・ We have succeeded in the world's first observation of the 50-fs (20 trillionths of a second) atomic movement in single-crystal Silicon.
・ We expect that the small size of the apparatus and the very small amount of electron damage will contribute to exploit a wide range of materials, such as optical memory and optical energy conversion materials.
The research team consisting of Associate Prof. Makoto Kuwahara of the IMaSS, Nagoya University, Designated Assistant Prof. Koh Takubo, Amiran Banu(D3) and Prof. Shinya Koshihara of Tokyo Institute of Technology, Associate Prof. Masaki Haneda and Wataru Yajima(M2) of University of Tsukuba, has successfully developed the world's first table-top electron diffraction apparatus for observing structural changes occurring in less than 10 trillionths of a second (100 fs) during photoexcitation.
Instead of using a huge accelerator, this diffraction apparatus utilizes a new pulsed electron beam generation technique based on the precise control of laser and compact accelerator systems to precisely capture time-lapse images of structure changes that occur in crystallized materials in about 50 fs (100 fs is one thousand trillionths of a second) or less; this is the speed at which atomic or molecule oscillations in a crystal. In fact, using this diffraction apparatus, they succeeded, for the first time in the world, in obtaining the most fundamental information for the development of optical devices, namely, how Si atoms move when photons stimulate single-crystal Si, a typical semiconductor. Since this diffraction apparatus uses low-energy electron beams with an acceleration voltage of 100,000 volts lower than those of conventional ones, there is almost no electron damage to the sample, and it is expected to contribute to exploit a wide range of materials, extending from inorganic to organic materials, including photoenergy conversion materials, optical memory, and topological materials.
The research results were published online in Review of Scientific Instruments on May 31, 2022 (local time).
Reference
The paper, "Generation of sub-100 fs electron pulses for time-resolved electron diffraction using a direct synchronization method" was published in the journal Review of Scientific Instruments on June 2, 2022, at DOI: 10.1063/5.0086008.
URL:https://aip.scitation.org/doi/10.1063/5.0086008