FR
Organization
Funded Research Division
Energy Systems (Chubu Electric Power) Funded Research Division
Operating with a broad focus ranging from materials and device technologies to system evaluations, this division strives to propose next-generation electric power energy systems to realize a sustainable and low-carbon society. The division promotes research on the harmonic fusion of renewable energy and commercial electric power systems, electric-power apparatus and systems with high efficiency and advanced functions, and advanced use of renewable energy and demand-side resources.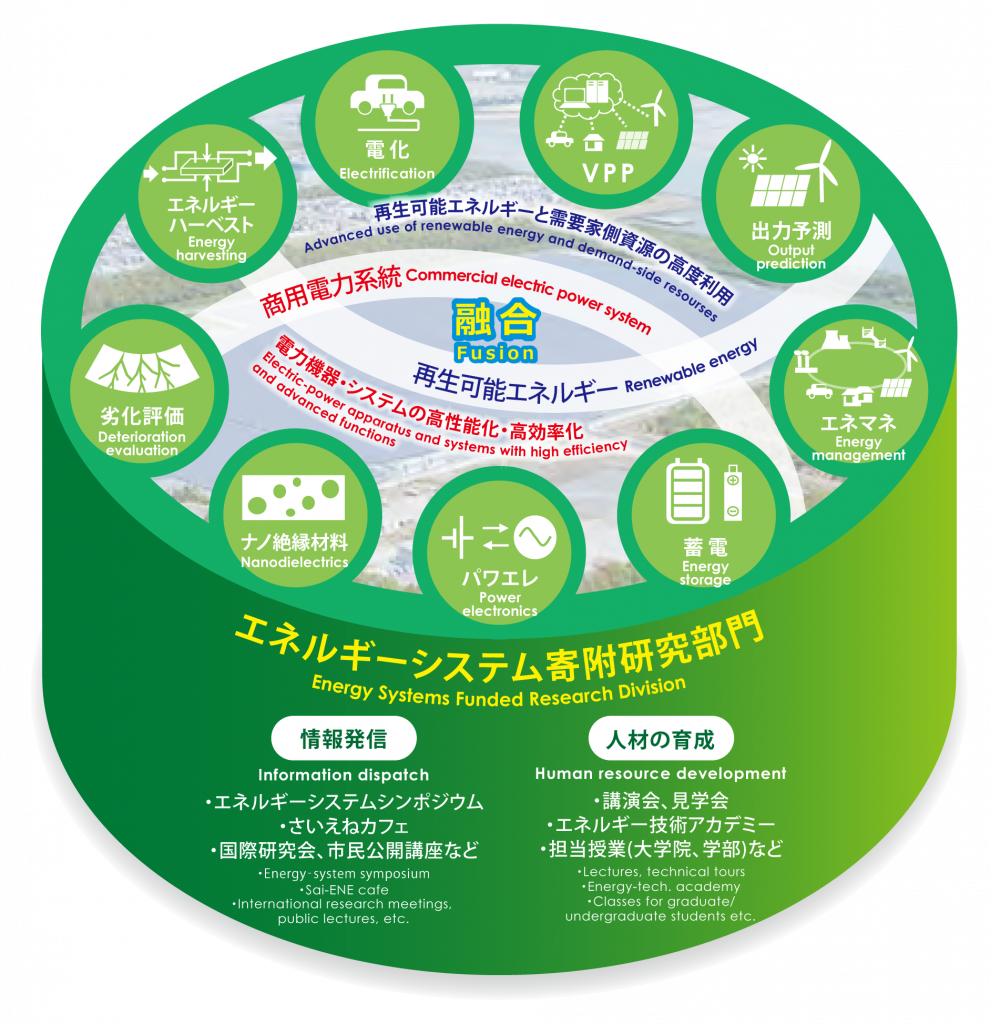 Show Member
Member
Project

Research on Harmonic Fusion of Renewable Energy and Commercial Electric Power System

Project

Nanocomposite Dielectrics for High Efficiency Power Apparatus and Systems

Project

Local Energy Supply Systems with Advanced Functions
Toyota Advanced Power Electronics Funded Research Division
To achieve a sustainable society that ensures a positive symbiotic relationship between humans and Earth, the funded division researches power electronics technologies for future mobility. The division researches and develops material technologies, device technologies, and system applications of wide-bandgap semiconductors with a wide perspective, contributing to the realization of the sustainable society as well as nurturing young researchers for the next generation.

Sustainable society that ensures a positive symbiotic relationship between humans and Earth
Show Member
Member
Designated Professor

SHIOZAKI, Koji

Project

Research of GaN Power Device and Investigation of Its Application

Designated Professor

TADANO, Hiroshi

Project

Power conversion circuit using advanced characteristics of devices

Project

Interface control of GaN-based heterostructures for power device application

Project

Growth of bulk GaN crystal

Visiting Faculty

KANAZAWA, Yasuki

Visiting Faculty

SAWADA, Takashi