The Center for Integrated Research of Future Electronics (CIRFE), established in October 2015, engages in lead­ing-edge electronics research-including research in the un­traversed area of devices with gallium nitride, carbon nano­-tube, SiC and other post-silicon materials-while also cultivating top-notch human resources to lay the foundations of the future electronics industry. CIRFE is divided into seven sections, each staffed with instructors who serve as leading spe­cialists in their field, and equipped with outstanding research infrastructure. The Center's fully integrated joint research and education system covers everything from basic scientific education on materials, measuring, devices, and applied systems through to the completion of student educational courses. Through research on energy-saving devices, an area in which very little experimentation has been carried out anywhere in the world, CIRFE strives to foster well-trained human resources who will lead the field of manufacturing in the twenty-first century.
Device Innovation Section
The Device Innovation Section aims to develop devices with new functions by establishing new crystal-growth methods and process development for cutting-edge electronics materials with a central focus on wide-bandgap semiconductors, such as gallium nitride and silicon carbide, and nanocarbon materials. A fully integrated research approach enables us to establish a unified process from crystal growth to device design, manufacturing, and assessment.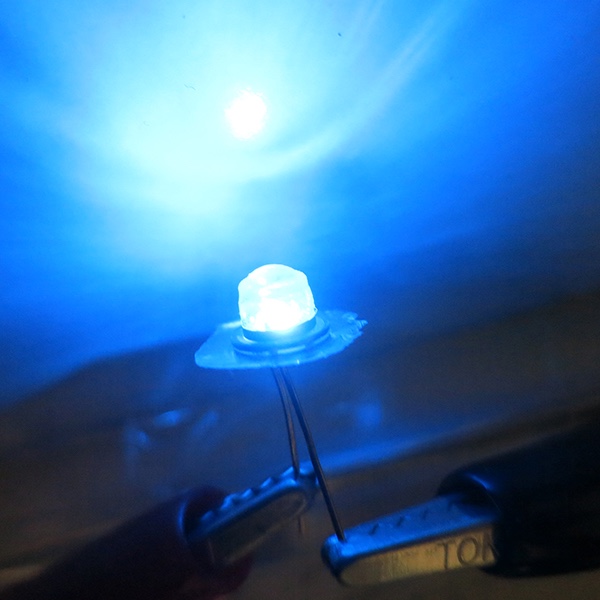 Crystal Growth
To realize gallium nitride semiconductor devices that will serve as the foundation of next-generation electronics, we carry out a wide variety of research from the growth of bulk crystals for use as substrates free of killer defects to the growth and processing of next-generation quantum structures and nanostructures.
show member
hide member
Surface/Interface
The materials used for power devices, solar batteries , LEDs, ceramics, and superconductors that help solve environmental and energy problems, as well as proteins required for drug development analysis, have crystal structures. By increasing our understanding and utilization of crystal growth, we aim to develop various materials that may change the world and produce materials that we have never encountered before.
show member
hide member
Member
Study on a novel processes based on crystal growth theory for high-quality crystal of functional materials (SiC, AlN, etc.)
The Creation of Bio-inspired Novel Functionalized Nanomaterials
Control of defects in crystalline materials
Designated Assistant Professor
Bulk growth of high quality SiC crystal by solution method
Visiting Faculty
Aiming at the creation of future electronics with affinity for human beings,we are striving to realize electronic devices that are transparent and flexible,taking advantage of the characteristics of nanomaterials such as carbon nanotubes. We will realize wearable healthcare devices that can be placed in direct contact with soft tissue of the human body.
show member
hide member
Member
Development of energy-saving advanced electron devices based on nano-carbon materials
Energy Conversion Device
Member
Advanced photovoltaic cells with earth-abundant materials
Advanced Device
Member
Characterization of material properties of wide bandgap semiconductors
Nanoelectronic Device
Member
Research and development of thin film and interface engineering technologies of group-IV semiconductors for low-power consumption nanoelectronic devices
Semiconductor Engineering and Integration Science
Member
Study on Materials Processing and Characterization for Advanced Electron Devices
Multiphysics Simulation Section
The Multiphysics Simulation Section is engaged in research with the aim of realizing multiphysical-system-based predictable crystal-growth simulations that integrate first-principles calculation with macroscopic fluid dynamics via thermodynamic analysis. Additionally,this section is pursuing proposals for new gallium-nitride-based power devices.
Frontier Computational Material Science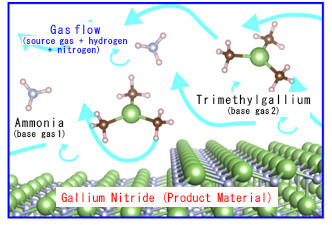 show member
hide member
Member
Computational Studies on Semiconductor Crystal Growth
First-principle study on thin-film growth and surface/interface properties
Modeling and simulation of semiconductor epitaxy
Computational Science on Crystal Growth from a Viewpoint of Fluid Dynamics
First-Principles Study on Electronic Property of Surface and Interface
Designated Assistant Professor
First Principles Simulations of GaN MOVPE Growth
First-Principles Study on Electronic Property of Surface and Interface
First-Principles Study on Electronic Property of Surface and Interface
First Principles Simulations of GaN MOVPE Growth
Materials Nano-Characterization Section
The Materials Nano-Characterization Section develops nanoscale operand analysis techniques for semiconductor devices under operating conditions using electron microscopy and electron holography.
These efforts are part of research centered on themes such as interface electronic properties involving direct measurement of device operations and electric-field response measurements for semiconductor interface electronic structures.
Nano-Electronic Materials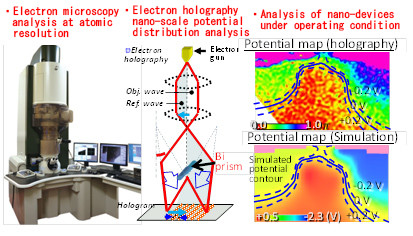 show member
hide member
Member
Nano-science and advanced electron microscopy for device innovation
Analysis of Magnetic Properties by Advanced Electron Microscopy toward the Development of New Devices
Advanced electron microscopy analysis of GaN and other nitride semiconductors
Visiting Faculty
Fabrication, Characterization and Application of New Nano-Materials — Basic Study of NanoTechnology Using Advanced Electron Microscopy —
System Applications Section
For the purpose of realizing high-efficiency, small, and lightweight power converters and motors used in hybrid vehicles, electric vehicles, power infrastructures, and next-generation airclafts, we carry out applied research on power electronics technology by integrating fields related to power semiconductors, controlling technology, and magnetic applications. We also conduct researches for RF applications focusing on the advantages of gallium nitride (GaN) devices.
Power Electronics
Sightseeing electric vehicle developed in our laboratory
(equipped with in-wheel motors, can be fully charged by capacitor charging in 4 min compared with 5 h using conventional batteries)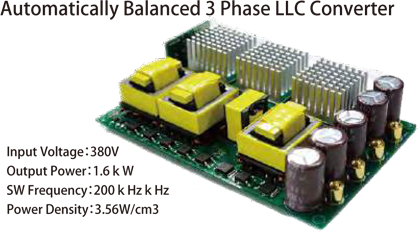 Practical automobile power converter with highest power density in the world (3 W/cc or more) realized using
GaN power semiconductor
show member
hide member
Member
GaN and SiC power semiconductor module techniques and its industry applications
Analysis and optimization of the behavior of GaN devices used in power electronic circuits
Research of electronics packaging technologies for GaN and SiC power semiconductor module and its industry applications and its industry applications
Research of advanced system simulation for Power Electronics and it's applications
SENANAYAKE, Thilak Ananda
Lab
High Frequency Wireless Power Conversion Circuit using GaN Semiconductor Devices
Visiting Faculty
Driving technique and circuit topology for GaN and SiC power semiconductor modules
High frequency power conversion circuit modules and industrial applied technology development
Visiting Associate Professor
MOSTAFA, Noah
RF Circuits
RF circuits group conducts researches of new circuit technology and the basic performance improvement of the elementary devices, aiming for micro- and millimeter-wave applications such as wireless energy transfer, next generation wireless communication systems, etc. By taking full advantages of gallium nitride (GaN) devices, we aim to dramatically reduce the energy consumptions and contribute to the realization of the society coping both convenience and sustainability.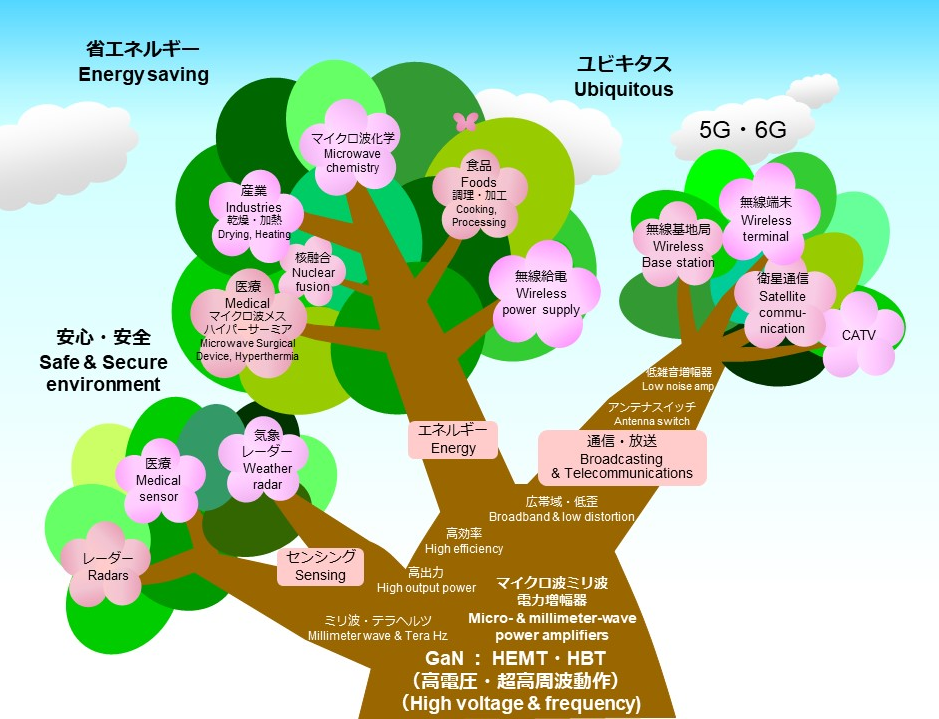 show member
hide member
Member
Circuit design technologies using GaN for microwave & millimeter-wave applications
Circuit design technologies using GaN for microwave & millimeter-wave applications
Improving simulation accuracy of GaN devices for microwave and millimeter-wave applications
International Research Section
In the area of devices utilizing cutting-edge electronics materials, this section focuses on the integration of such devices into various systems and pursues applied research with an eye toward real-life applications throughout society. The International Research Section engages in research and development activities together with visiting professors invited from overseas. Additionally, the Section is cultivating an international research network as part of efforts to form a central venue for nitride semiconductor research.
New Ⅲ-Nitride Approaches
Future devices needs further Ⅲ-Nitride semiconductor development. This is especially true for the substrates and templates, since those ultimatively limit the performance. We explore these limits also by making proof of principle devices.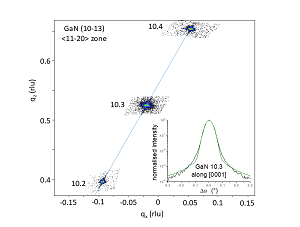 Reciprocal space map using high-resolution X-ray diffraction to estimate the basal plane stacking fault density
on (10-13) GaN crystals for green LEDs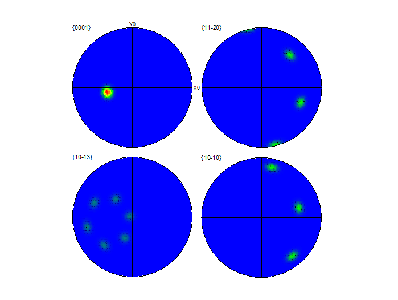 Orientation of single phase (10-13) AlN on sapphire produced by directional sputtering
and high-temperature annealing.
Atomic force microscope images of (10-10) AlN films prepared by metal-organic vapour phase epitaxy with three different nucleation times and annealed at different temperatures.
Numbers indicate roughness in nanometer.
show member
hide member
Member
Better device materials from a better understanding of crystal growth
Crystal Growth
Member
Visiting Faculty
Thermal Properties and Thermal Management of GaN Devices
Bulk, epitaxial growth, and device development in III-nitrides
BOCKOWSKI Michal Stanislaw
Advanced nitride semiconductors growth by HVPE
Industry-Academia Collaborative Research Section
This section aims to boost the efficiency of collaborative industry‒academia research and development activities, and also serves as a mediator to help realize actual applications of CIRFE achievements and results in society.
Research strategy section
This section is established to promote implementation of gallium nitride technologies to our society. It organizes and promotes industry-academia collaborations as well as joint research projects. This section also provides a function of secretariat of GaN research strategy office of Nagoya University.
Research strategy section
Member
University Research Administrator
SATO, Hiroya
University Research Administrator
MIZUNO, Koichi
University Research Administrator
FUJIMOTO, Hiromasa
University Research Administrator
YAMAGUCHI, Atsushi